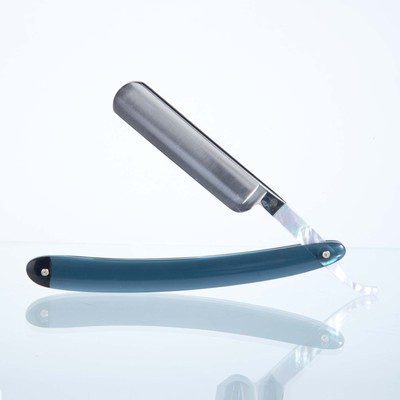 [+] Click for Bigger Image
BÖKER Rasiermesser 5/8" Pearl Scale Tang BOKER Straight Razor 140546
(€209.00)
Located in Berlin (12101)
Go To Store!
---
Ein außergewöhnliches Böker Rasiermesser gefertigt in höchster Handwerkskunst,

mit einer 5/8" Rundkopf Carbonstahl-Kinge extrahohl mit Wall geschliffen,

der Klingenrücken wurde mit einer feinen Lasergravur versehen.

Dazu besitzt das Rasiermesser rauchglasfarbenene Griffschalen aus Acryl

in Verbindung mit einem verjüngten Erl,

auf den in feinster Handarbeit Perlmuttschalen aufgebracht wurden.
hergestellt in Solingen,

Auslieferung rasurfertig in historischer Verpackung und mit Echtheitszertifikat.

An extraordinary Boker razor made in highest craftsmanship,

with a 5/8" round head carbon steel blade extra hollow with wall ground,

the blade back was provided with a fine laser engraving.

In addition, the razor has smoked-glass-colored grip shells made of acrylic in combination

with a tapered alder, on which mother-of-pearl shells were applied in the finest manual work.

Delivery in historical packaging and with certificate of authenticity.
 Handcrafted in Solingen.
Delivered ready for shaving in the classic Boker box 
including certificate of authenticity and historical packaging.